Rebus puzzles are a form of a creative brain-teasers, which give visual clues to a puzzle. To solve a rebus puzzle, you need to understand and decipher the pictures to arrive at the correct answers. Such a fun way to exercise your brain!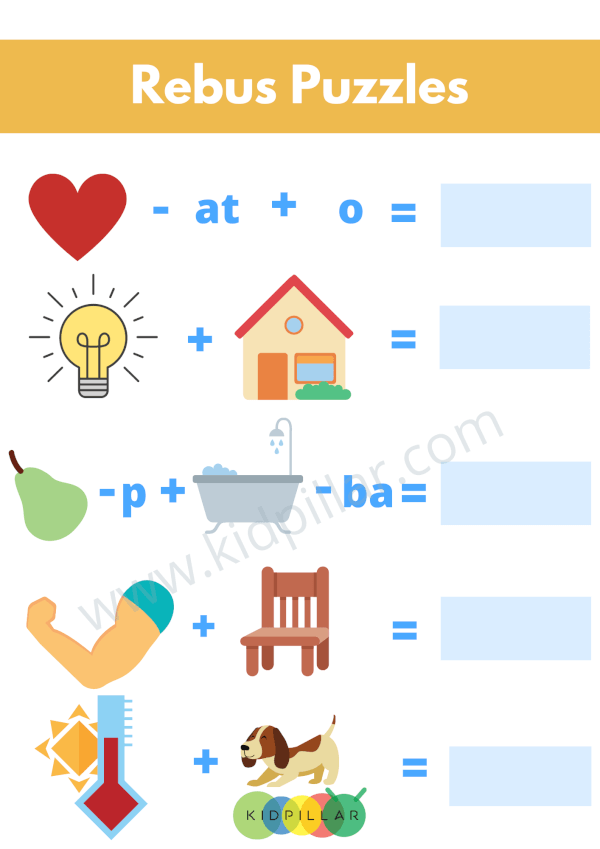 These puzzles are particularly good for visual learners and children are great at visual clues. That's what makes them a BIG hit with children. Rebus puzzles can represent name, thing, animal or a phrase. They a great way to improve kids' literacy while working on their problem solving skills.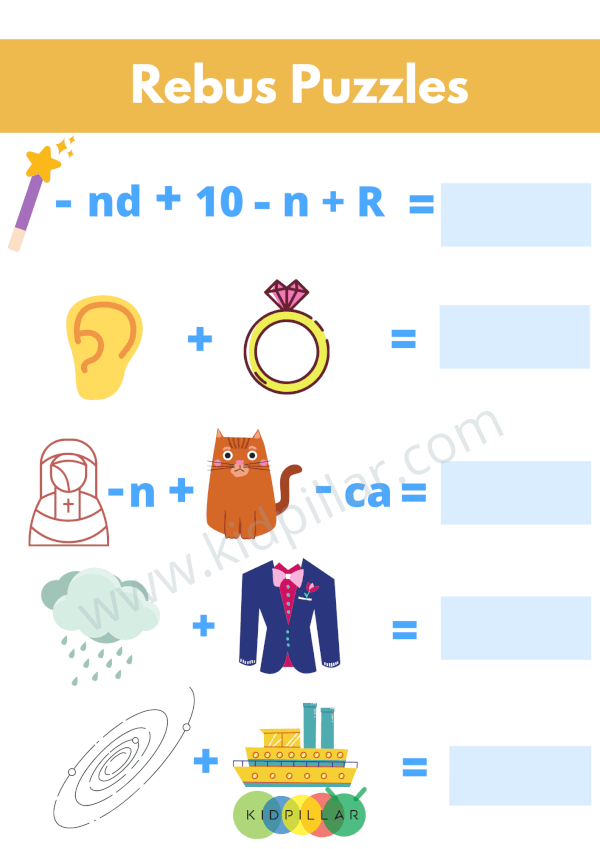 Besides providing wholesome entertainment, Rebus Puzzles have numerous brain benefits as well.
Benefits of Rebus Puzzles
1. Reasoning Skills
Like any puzzle, Rebus requires kids to decode the pictures and follow the instructions to make a new word. Thus, building their logical and reasoning skills.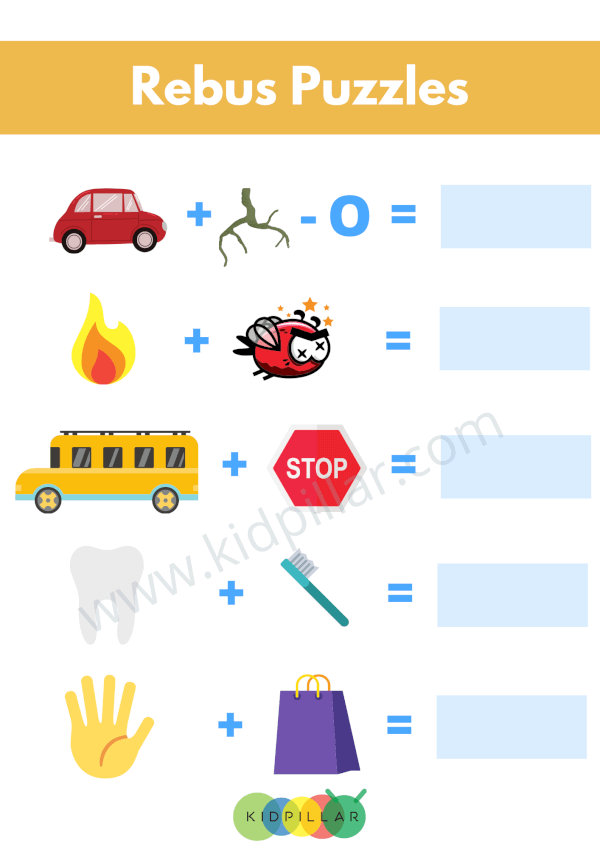 2. Vocabulary
To solve a rebus, children need to identify pictures and name them. They need to identify pictures with different words. This helps them recall words they already know and even learn new words, ultimately enhancing their vocabulary.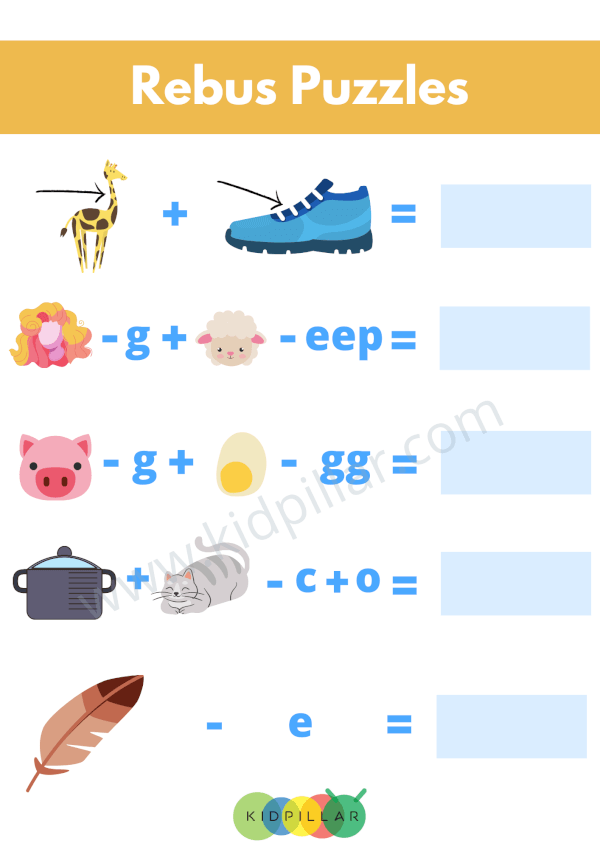 3. Spellings
These picture puzzles are great ways to teach and learn new spellings. When children combine the clues and land with a new word, they can relate to the spellings better and retain them longer.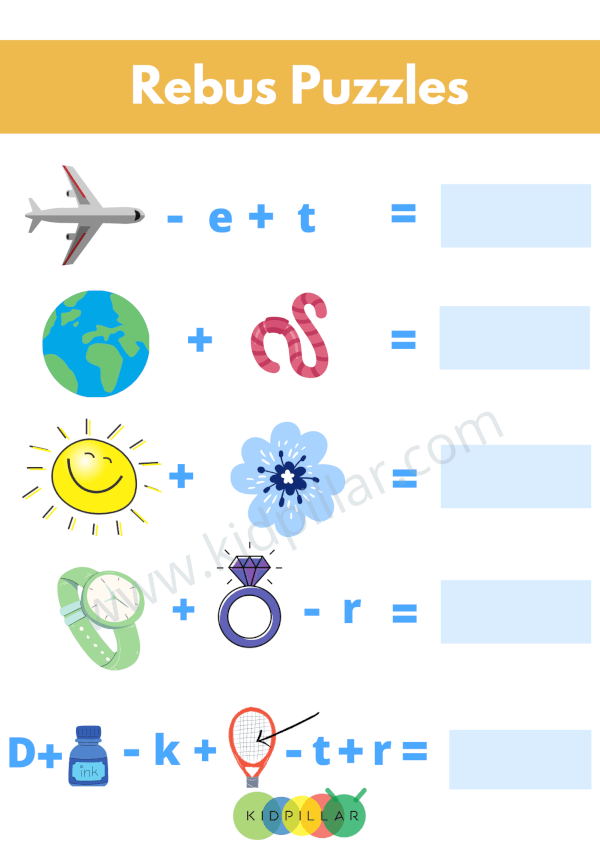 4. Woking Memory
Rebus Puzzles are great working memory boosters. They require your child to recall words from their existent memory and add new words to their memory bank.
5. Family Fun
Rebus Puzzles for kids are not only fun for kids but also for the entire family. They boost bonding while having fun, learning new words and building critical reasoning skills.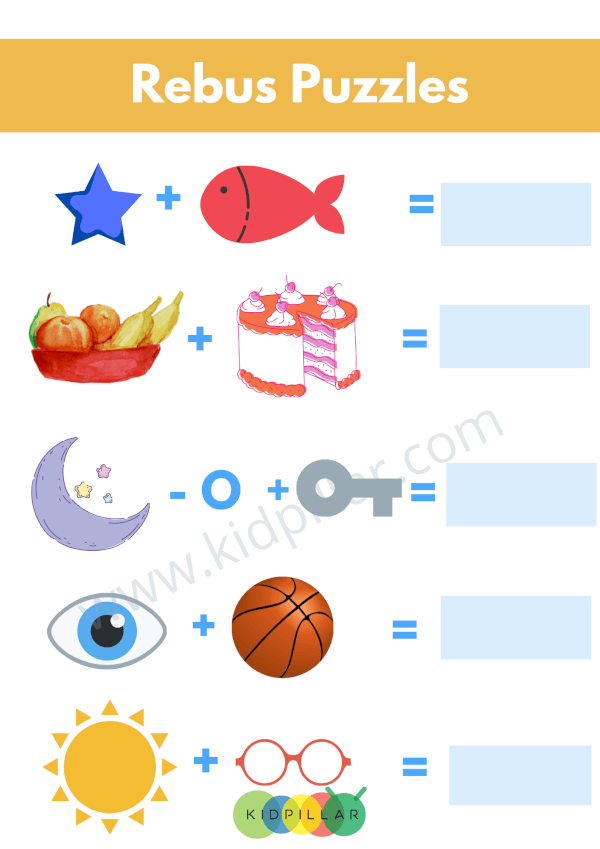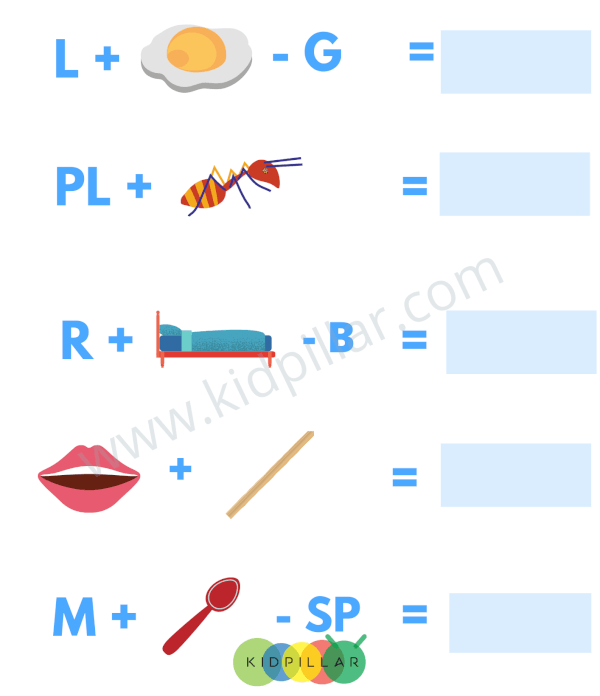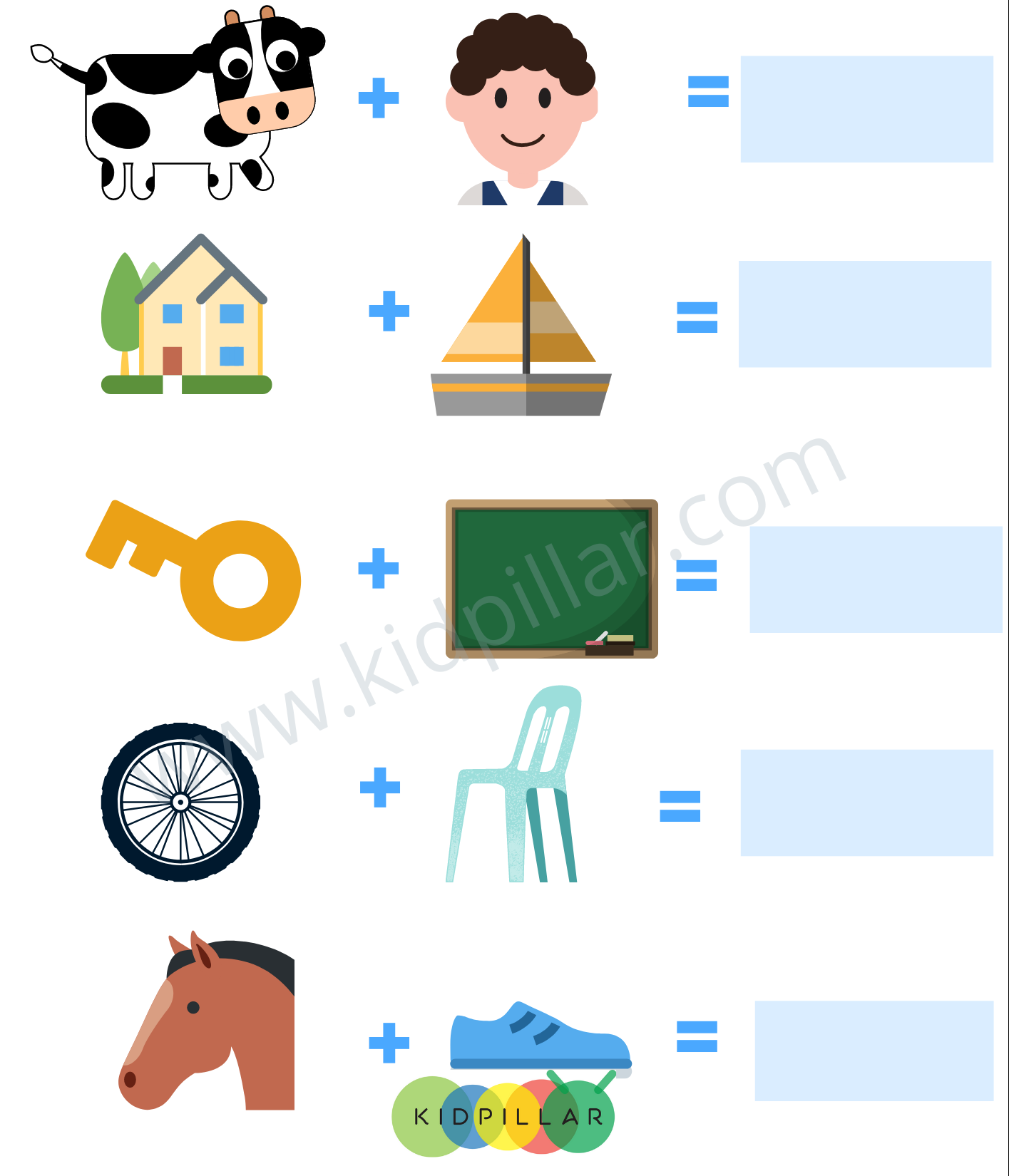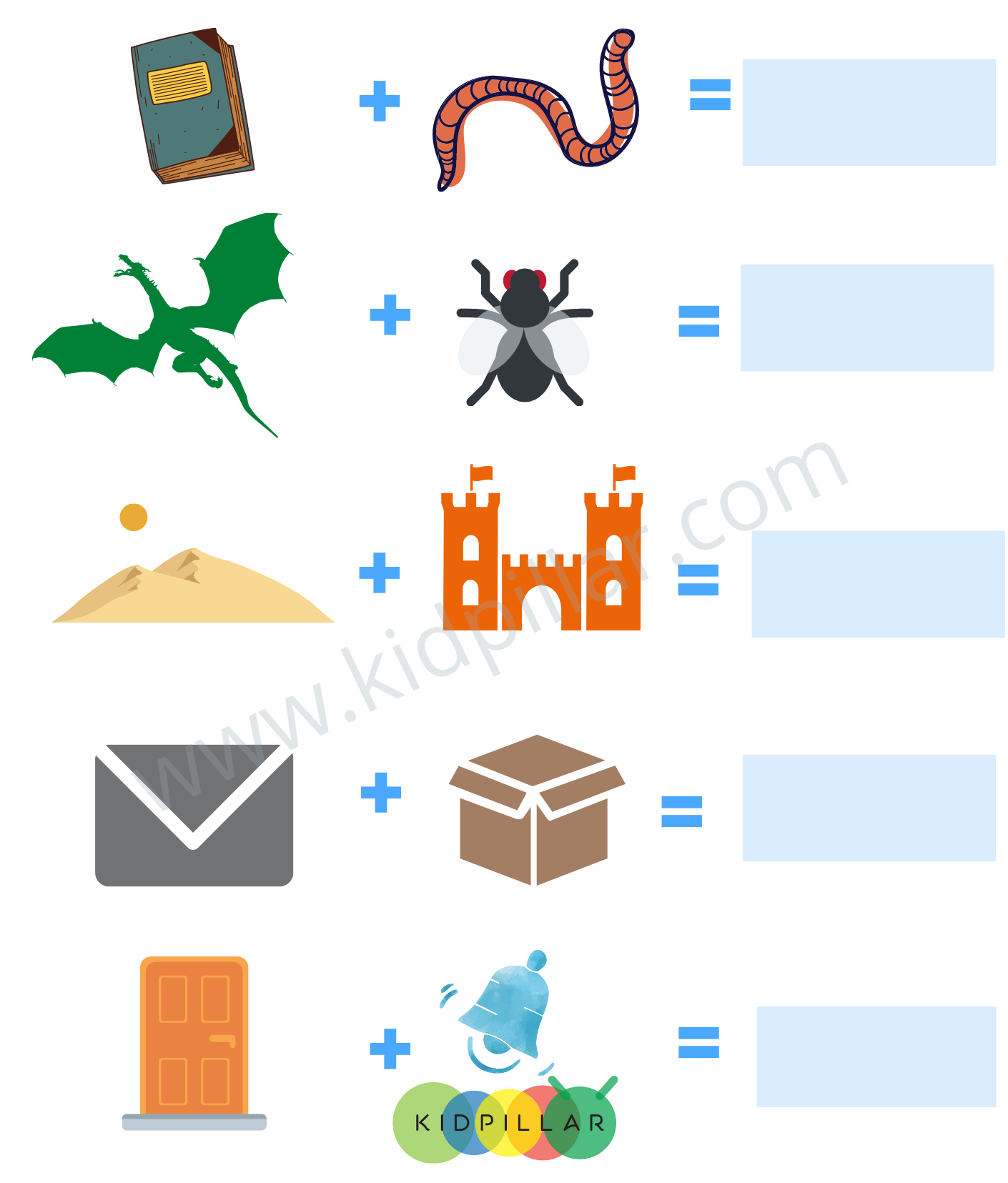 Love the above Rebus puzzles? Here is a link to download more  FREE* Rebus Puzzles for Kids. This pack will certainly get your kids thinking.
*Terms of Use
Feel free to share with colleagues, friends, and family members by sharing the URL for the resource. (But No Google Docs or posting on other websites)
You may link the freebie on your website or blog with a LINK back to the original posting.
You may use it in your classroom settings.
Please appreciate the effort, money and time taken to formulate the Freebies by not misusing or editing them. Appreciate your cooperation.
If you have any query kindly email us at: support@kidpillar.com
The post Free Rebus Puzzles for Kids appeared first on KidPillar.