This is the second part in the series of how I've found games to publish for Weird Giraffe Games and Galactic Raptor Games. If you haven't read the first blog, you can do so here.
When I'm evaluating a game to publish, whether I've designed it myself or not, I must make sure it fits into a particular line of games. The games I publish under Weird Giraffe Games and Galactic Raptor Games feel different, and any game I'm going to publish has to feel like it belongs. Also, it's super important that I'm able to work with the designer well and have a good back-and-forth with them.
So, here are some more stories about how I've found game designs and designers to work with!
Tumble Town
Tumble Town was designed by Kevin Russ, whom I first met at the first Origins where I had a booth. I remember this distinctly as it was the first major convention where I had a booth, and I was desperately unprepared for the experience. I ended up putting out a plea for help on Twitter and that's how I met Kevin!
He showed up and started helping and it was amazing! We got to know each other a bit, so much so that we ended up seeing each other at Gen Con, which was a few months later. One night, while we were hanging out playing games, Nick asked if Kevin was working on any games. He said he had Tumble Town, and once Nick played it, he knew it was going to be a hit. I ended up playing it later myself and loved it too, so I signed it a few weeks later.
What really drew me to Tumble Town was the way the dice physically stacked into the buildings I built. That was such a neat mechanic; it looked great on the table and felt so unique! Even better, the rest of the game was still light, fun, and accessible. I also liked playing games with Kevin and knew he was great to work with from a convention standpoint, so he seemed like a great designer to sign.
Gift of Tulips
Like Dreams of Tomorrow, I found Gift of Tulips at ProtoATL. It seems I find a game at each ProtoATL that I attend (hint hint). I had known Sara Perry (the designer of Gift of Tulips) for a few years, as we had each gone to previous ProtoATLs. She was also part of the Birmingham design group which I visited every so often to playtest. When I saw Sara in the playtest hall, I wanted to play whatever game she had; she always had interesting games to play.
This also lined up with the fact that I had recently returned from a trip to the EU, where I visited Amsterdam and Keukenhof: a large botanical garden in the Netherlands. When Sara said her game was called Festival at Keukenhof, I was immediately excited; not only was Sara great, but I had also just visited the location the design was based on!
The group of friends that started playing Festival at Keukenhof ended up playing the game 3 or 4 times in a row. The game was so interesting and quick, so we could easily play, make a change, then play again, with the game getting better every time.
Since I knew Sara pretty well and played the game numerous times at ProtoATL, I ended up signing the game fairly quickly after that. Sara was a known designer who I liked, the game was fun, and I was super into the theme.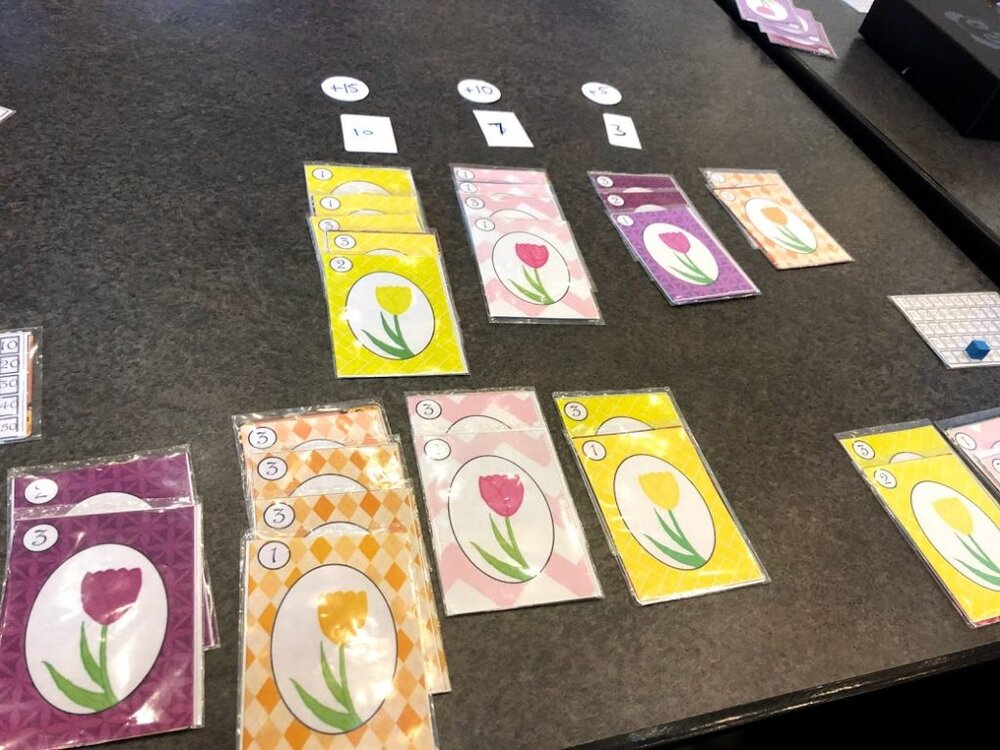 What I really liked about the game was that it was a small game, with an interesting giving mechanism that was really positive. I love positive player interactions and the game did so much with a small collection of components, so it was definitely a game I wanted to work on.
Wicked & Wise
At that very same ProtoATL, I also got to meet Fertessa Allyse! I'd heard about Book of Villainy from another publisher and wanted to try it out, so I found Fertessa and asked her to play.
I got to play Book of Villainy and one of the things I really noticed about the playtest was that Fertessa really cared about what the playtesters said and she wrote down a ton of notes. It's always great when a designer shows that they care about what you think and that they can take feedback well. I didn't end up signing Book of Villainy, but I did get to make a friend! We ended up seeing each other again and playtesting games at Dice Tower Con in Orlando, then I invited her over to my house for a playtesting weekend.
Coincidentally, it was a weekend where I invited Sara Perry over, too; it's always great to have designer friends over and to just play published games or playtest all weekend. Fertessa brought out a game she hadn't gotten a chance to playtest yet: Wicked & Wise. It was a four-player asymmetric trick-taking game and Nick was immediately all about it due to the unique take on trick-taking game standards. Nick played a lot of Hearts growing up and likes trick-taking games, whereas I played Spades a ton growing up and was pretty over them. However, Wicked & Wise was great, as both of us could have fun with the game given the asymmetric roles. The initial playtest was a lot of fun, and we gave some feedback, but it wasn't until after the weekend was over when Nick and I were talking about the game that we thought about possibly signing it. It was a really new design, and it would need some work, but Fertessa was amazing, so we were interested despite the challenges.
I ended up seeing Fertessa again at Metatopia where I had a chance to play the new and improved Wicked & Wise, which had some terrific improvements. I let Fertessa know that we were interested and then signed the game a few weeks later.
The game was signed in part because the game was a good fit for Weird Giraffe Games; we didn't have a trick-taking game yet and it was an interesting and different take on classic mechanisms. It was also signed in part because Fertessa consistently proved herself to be a great designer who could take feedback and use it to iterate and create a great game. It also helped to see her at a convention and to playtest the game again, as that reminded me that Wicked & Wise was a terrific experience.
Other Games
There are still more games that I've signed that I haven't talked about, so there will be a part 3 to this! As with the first post, it should be pretty obvious that going to playtesting conventions and showing yourself to be a good designer and/or volunteering to help out can go a long way and give you chances to get your game in front of a publisher. It's not only your game that a publisher is thinking about when they choose to sign the game, but also your actions and behaviors that go into the choice.