State of Emergency
State of Emergency introduces challenges that up the difficulty so you can replay Pandemic more often. That's why it's our favorite expansion to the Pandemic base game.
Pandemic Legacy
Over multiple sessions you work your way through a story and your choices now impact future sessions. Pandemic Legacy is the most popular board game of our time – don't miss out!
Pandemic is an award winning board game series with several expansions, versions and spin-offs. In this ranked list we share what we think are the best Pandemic expansion and the best Pandemic version.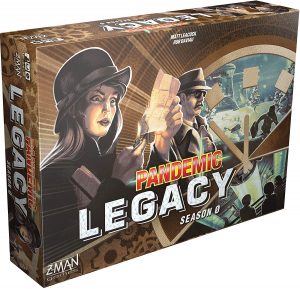 Pandemic Legacy: Season 0 is the newest Pandemic board game, released on October 23 2020! It's a prequel to the other Pandemic Legacy games, set in the cold war era.
We're very excited for this game as the Pandemic Legacy series is our favorite series in all of board games. We'll update our ranking with a Pandemic Legacy Season 0 review as soon as we've had the chance to play it through.
If you can't wait for this game (like us), it should be available on Amazon from October 23 onwards.
We hope that our Pandemic ranking helps you to pick the best Pandemic expansion or version for you. If there's still any questions our ranking leaves unanswered, please shoot us a message through our contact form so we can incorporate your question in our post.
The post Best Pandemic Expansion & Version [2020] appeared first on Board Game Theories.